Eviction in Illinois during COVID-19
The Illinois State Eviction Moratorium is active through July 24, 2021

Governor Pritzker has announced that the state moratorium will be phased out by the end of August.
On July 14, he announced that eviction filings against those covered by the moratorium can begin again on August 1, though enforcement of eviction orders against those covered cannot be carried out until after August 31.

In addition, on July 15, the Illinois Supreme Court announced a revised order concerning residential evictions. Timed to coincide with the resumption of eviction filings effective August 1, the amended order provides for a one-month period in which judges in county courts will temporarily stay residential eviction proceedings against covered persons and will refer newly filed cases to programs providing ERA.
Find resources and help for renters facing eviction here.
The Federal Eviction Moratorium is active through July 31, 2021
This is expected to be the final deadline for the federal moratorium.
The Illinois eviction moratorium prevents law enforcement from carrying out eviction and foreclosures and restricts the filing of eviction cases solely for nonpayment. Eviction cases can still be filed if the tenant poses a direct threat to the health and safety of other tenants, an immediate and severe risk to property, or a violation of any applicable building code, health ordinance, or similar regulation. The Executive Order does not relieve any individual or entity from the obligation to pay rent or comply with any other obligation they might have pursuant to a lease or rental agreement. View Illinois Eviction Moratorium FAQ »
This state moratorium is stronger than the nationwide CDC eviction moratorium.
Tens of thousands of families and individuals face eviction in Illinois each year. 56,948 eviction cases were filed against Illinois tenants in 2016, and 46% of those case resulted in evictions.
This means at least 72 Illinoisans and their families lose their homes every day.
Being evicted can kick off or deepen a spiral of financial instability. It can affect a person's ability to get or keep a job, care for family, stay in good health, build or maintain relationships, and secure future housing. Just having an eviction filing on the public record can also be a serious obstacle in securing future housing. The consequences of eviction are both immediate and long term, and they spread into all aspects of individual, family, and community
life. An increase in a community's economic instability is correlated with higher crime rates and higher healthcare and social service costs. The issue of eviction affects everyone in a community.
Although eviction is by no means a new problem, the publication in 2016 of Matthew Desmond's heartbreaking, Pulitzer Prize-winning book, Evicted: Poverty and Profit in the American City, has sparked widespread interest in this issue. Desmond's profiles of eight families struggling to keep their homes in Milwaukee, which he contextualizes with a wealth of data, illustrate two important conclusions:
People are primarily evicted because of poverty. Not paying rent is the result of not having adequate income.
Evictions are not just the result of poverty; they are a cause of poverty. Experiencing an eviction can lead to a cycle of financial insecurity, job loss, family instability, and homelessness.
Eviction is prevalent throughout Illinois. Among Illinois's eight cities with populations of more than 100,000 residents, the cities with the highest eviction rate are Rockford, Joliet and Peoria. Eviction is also prevalent in small and mid-size cities, as well as in suburban and rural areas. Approximately two-thirds of evictions cases are brought outside of Cook County, even though the majority of renters in Illinois live in Cook County.
Why Racial Justice Matters
Evictions disparately impact Black communities, especially Black women and families. In 2017, 23 of the 25 community areas in Chicago with the highest eviction filing rates were majority Black Community Areas. Majority Black areas had eviction filing rates two to four times higher than majority Latinx or White areas.
Eviction in Illinois
Eviction is prevalent throughout Illinois. This policy issue brief by Housing Action Illinois, published in February 2019, explores county-level eviction data. Key findings include:
56,948 eviction cases were filed against Illinois tenants in 2016.
In those cases, 46% resulted in evictions, indicating that more than 72 Illinoisans and their families lose their homes every day.
54% of households did not have a negative determination against them but still ended up with an eviction filing on the public record that may be a serious obstacle to finding a future home.
Prejudged: The Stigma of Eviction Records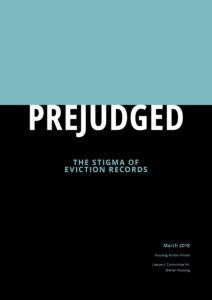 This report by Housing Action Illinois and the Lawyers' Committee for Better Housing, published in March 2018, explores how an eviction filing on the public record is a serious obstacle to finding housing for people whose cases did not result in them actually getting evicted. This is true even in cases where the tenant didn't violate their lease in any way. Prejudged: The Stigma of Eviction Records shows that 39% of eviction cases filed in Cook County during the past four years did not result in an eviction order and/or other judgment against the tenant. We estimate more than 15,000 people in Cook County each year ended up or will end up with a public eviction record when they never received a judgment against them in eviction court or were actually evicted.
Eviction in Chicago

Lawyers' Committee for Better Housing launched a data portal in May 2019 with detailed information on what eviction looks like in Chicago. Among other findings, the data shows that renters in majority Black neighborhoods in Chicago are four times more likely to face eviction than renters in majority White neighborhoods. Visit the data portal »

Tenant Blacklisting & Record Screening

Resources for Tenants
Expand Access to Sealing Records
Having an eviction court filing on your record can be a serious obstacle to finding housing. Too often, people do not understand that an eviction filing does not mean someone was actually evicted.
Illinois can help more people find and secure good homes by expanding opportunities to seal eviction court records. Housing Action Illinois, the Lawyers' Committee for Better Housing and the Shriver Center on Poverty Law have drafted and will be advocating for a bill to expand access to sealing eviction records during the 2020 legislative session.
State Advocacy
State Advocacy: For a number of years, Housing Action Illinois has worked with partners to try to pass a measure that would expand access to sealing eviction records in Illinois. During 2019, we worked with the Lawyers' Committee for Better Housing number to draft and advocate for House Bill 2299, sponsored by State Representative Delia Ramirez. We continued our advocacy in 2020 with House Bill 4911, again sponsored by Representative Ramirez, and Senate Bill 3158, sponsored by Senator Jaqueline Collins.
Federal Advocacy
As a member of the national, multi-sector Opportunity Starts At Home coalition, Housing Action Illinois is urging legislators to pass the Eviction Crisis Act. This act will create new tools for addressing the issue at the national level by improving data, expanding efforts to reduce preventable evictions, and limiting the fallout when evictions do occur.