Housing Action
AmeriCorps Network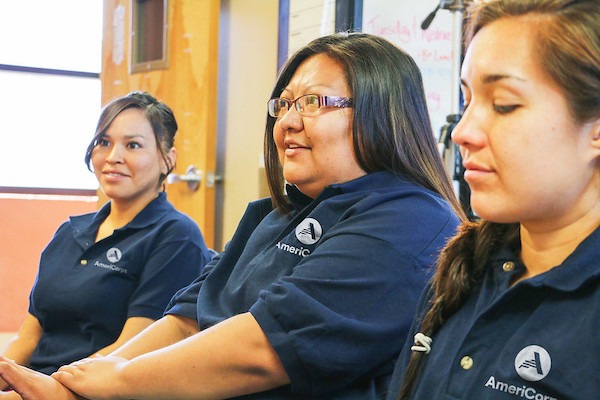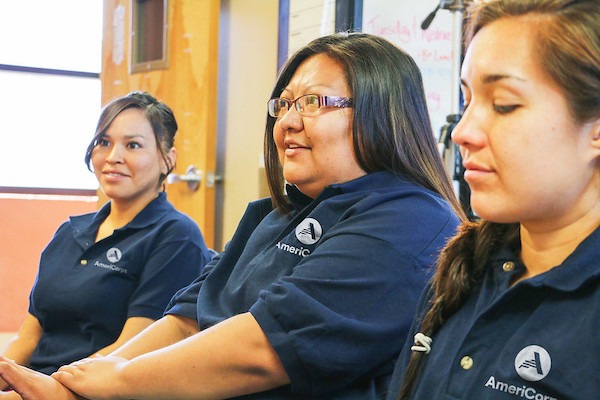 Apply to Host an AmeriCorps Member
From making a fundraising video for #GivingTuesday to launching a program that empowers residents to advocate for themselves, AmeriCorps members in Housing Action's network tackle a wide range of projects. We place full-year AmeriCorps members with organizations around the state to work on projects that build their capacity to fight poverty.
2024 Host Site Applications are open until January 26. 
Upcoming Webinars:
How to Host Housing Counseling Corps Members | December 7 | Register »
How to Host AmeriCorps Members | December 14 | Register »
Writing Strong AmeriCorps Host Site Applications | January 11 | Register »
National Service with Housing Action Illinois
Each year, Housing Action connects AmeriCorps members with community organizations to address local challenges with local solutions. AmeriCorps is a national service program that provides opportunities for people to lead anti-poverty projects and build the capacity of community-based organizations. 
AmeriCorps members in the VISTA program take on a variety of roles at their host organizations, all aimed at helping our communities thrive. They expand the scale of programs and services, launch new projects, and increase available resources, such as volunteers, donations, and grants.
Since 2010, the Housing Action AmeriCorps Network has paired hundreds of AmeriCorps members with organizations across Illinois. Our network typically manages 30 full-year AmeriCorps members and 30 AmeriCorps Summer Associates* each year. AmeriCorps members serve at their host organizations for a 12-month term or for 8-10 weeks as a Summer Associate. 
In 2021, Housing Action launched the Housing Counseling Corps to strengthen housing counseling agencies and establish a path for AmeriCorps members to become HUD-certified housing counselors by the end of their service year. The Housing Counseling Corps expanded nationwide in 2023, placing AmeriCorps members with housing counseling agencies in Illinois and throughout the United States.
*Due to federal budget restrictions, the AmeriCorps VISTA Summer Associate program will not be offered in the 2024-2025 cycle. To support Housing Action's advocacy efforts to increase vital funding for AmeriCorps programs, please contact willie@housingactionil.org.
Host an AmeriCorps Member
From launching new programs to growing volunteers and donors, AmeriCorps members leave a lasting impact with the organizations and communities they serve. They focus on projects that help their host sites build and enhance their services, resources, and partnerships to meet community needs in new ways. 
The Housing Action AmeriCorps Network typically accepts applications for host sites from December to February each year, and we begin recruiting for AmeriCorps members in March. Full-year AmeriCorps members usually begin in August, while Summer Associates begin in June.
Host sites must be members of the Housing Action Illinois coalition and pay a project participation fee after the position is recruited. For more information, please see the Host Site Application Resources Packet.
Applications to host 2024-2025 AmeriCorps members are now open. Host site applications will close on January 26, 2024.
Want to hear from others who have hosted an AmeriCorps member? Check out testimonials from our AmeriCorps members' supervisors »
Serve as an AmeriCorps Member
AmeriCorps members build up communities while building their future. They are placed full-time with their host organization, typically serving on-site in an office environment. AmeriCorps members tackle a variety of projects and activities, including program development, grant writing and fundraising, community organizing, research and data management, communications, and volunteer recruitment. 
After a year or summer of service in the VISTA program, AmeriCorps members are prepared to take the next step in their education or professional goals. The Housing Action AmeriCorps Network provides customized training and networking opportunities to help launch a career in housing, homeless services, community development, and public service. 
Service terms last either 12 months (usually from August to August), or 8-10 weeks (between June and August). Find an opportunity that fits you »
Applications for 2023-2024 AmeriCorps positions are now closed. Check back in the spring for positions starting summer 2024! 
There are two ways to apply to our positions: through Housing Action's Quick Application or through the AmeriCorps portal. 
We received feedback that the AmeriCorps portal can be confusing and complicated to use, so we created our Quick Application as a way to make applying and interviewing for our positions simpler and more accessible. When you fill out the Quick Application, you can choose to apply for a specific position or be considered for multiple positions in our network.
If you are offered a position, you will still need to complete an official application on the AmeriCorps portal prior to starting service. For assistance using the AmeriCorps portal, read detailed instructions on how to apply »
Application Steps & Timeline
We begin accepting applications on a rolling basis for our summer and full-year AmeriCorps positions in February. Summer AmeriCorps members serve from June to August, while full-year AmeriCorps members serve for 12 months and typically start in August. 
February – Applications Open
April – Application Review Period Begins
April-July – Interviews with Host Sites
May 19 – Application Deadline for Summer Associate Positions
June – Service Begins: Summer Associate Positions
July 14 – Application Deadline for Full-Year Positions
August – Service Begins: Full-Year Positions 
2023–2024 Open Positions
The AmeriCorps VISTA Program is a national service program that connects people and organizations to help end poverty and strengthen communities. Summer AmeriCorps members commit to serve communities full-time for 8-10 weeks from June to August, while full-year AmeriCorps members serve with organizations for 12 months (typically starting in August). Most of our positions are located in Illinois, but AmeriCorps members serving in our Housing Counseling Corps can be matched with housing counseling agencies nationwide. 
What does service look like?
As a full-year AmeriCorps member in the VISTA program, you would perform indirect service, which includes activities that help an organization enhance its mission, strategy, skills, and infrastructure to fulfill its mission. You would serve in an office setting, and your responsibilities might include:
Writing grants
Organizing a volunteer program
Developing a curriculum for a training
Other kinds of program design and implementation
You won't be working directly with people in need. Instead, you'll be helping to expand the capabilities of your host organization to better serve its community. You might not see the impact immediately, but your host site will continue to benefit from your efforts long after your term of service ends.
If you think direct service—providing immediate solutions to people in need and includes activities like building a house, teaching a course, or mentoring a student—is a better fit for you, you may want to consider applying for one of our Summer Associate positions.
Full-year AmeriCorps members may not perform direct service, but Summer Associates can take on direct or indirect service.
What type of compensation and benefits are available?
AmeriCorps members are full-time volunteers—VISTA stands for Volunteers In Service To America. However, AmeriCorps members do receive a modest living allowance to help cover basic expenses. With approval from their supervisors, AmeriCorps members can also work a job in their spare time, but they must be available to serve during regular business hours.
Full-Year AmeriCorps Members
Full-year AmeriCorps members receive a living allowance of $22,882 per year.
Summer Associates
Summer Associates receive a living allowance between $3,510 and $4,388, depending on the service term (8-10 weeks).
Benefits
In addition to the living allowance, you will also receive benefits as part of your AmeriCorps service:
Full-Year AmeriCorps Members
Choice of an Education Award ($6,895) or an End-of-Service Cash Stipend ($1,803)
Forbearance or deferment of student loan payments during term of service
Non-competitive eligibility status for federal jobs
Healthcare allowance
Leave Days: 10 personal & 10 medical
If Eligible: Relocation payment (up to $750)
If Eligible: Child Care Assistance
Chicago metro area only: Free unlimited Ventra or Metra pass
Summer Associates
Choice of an Education Award ($

1,459

) or an End-of-Service Cash Stipend ($345)
1 or 2 sick days may be granted. However, because the term of service is so short, the hours must be made up.
Professional Development
Becoming an AmeriCorps member is a great way to serve your community while gaining experience at a community-based organization. The projects you take on as an AmeriCorps member help you develop marketable skills that can make you a competitive candidate when you apply to jobs and education programs after your term of service ends.
As a full-year AmeriCorps member, you will also participate in two In-Service Trainings (IST) as a part of your service. At the ISTs, which are specialized, multi-day, in-person training events, you will join other AmeriCorps members in your cohort to learn about topics and best practices relevant to your service. The first training, in the fall, will set you up for success during your term of service. The second, in the spring, helps you get ready to secure your next professional endeavor after you complete your term.
Ready to start building a career in affordable housing or homelessness? You can get to know others in the field through professional networking opportunities at Housing Action's annual conference, which 250 housing practitioners from across Illinois attend each year.
Ahead of the Curve
In 2021, we published the findings from our survey of 169 AmeriCorps VISTA alumni who served in our network over the course of a decade (2010–2020). The findings show that a year of service can pave the way for a nonprofit career, help make a difference in your community, and be a meaningful way to learn about housing and homelessness.
of survey respondents secured employment within 6 months of finishing service (national average is 67%)
of survey respondents believe or strongly believe their experience as a VISTA was worthwhile
of survey respondents were offered staff positions by their host sites (national average is 20%)
More About Our Network
Housing Counseling Corps
Housing counseling programs are crucial in combating the affordable housing crisis, but due to a nationwide shortage of HUD-certified housing counselors, agencies are struggling to meet community needs. In 2021, we piloted a new initiative of our AmeriCorps network—Housing Counseling Corps—to build the capacity of housing counseling programs and establish a pipeline of HUD-certified housing counselors to help more people secure safe and affordable homes. After launching the initiative in Illinois, we expanded the Housing Counseling Corps to match AmeriCorps members with organizations nationwide in 2023. 
AmeriCorps members in the Housing Counseling Corps spend a full service year learning about the housing counseling profession, becoming familiar with the specific programs and client needs of a housing counseling agency, and preparing for and taking the HUD Housing Counseling Certification Exam. After their service, members are well-positioned to begin a job as a HUD-certified housing counselor at their host site or another housing counseling agency. 
Housing Action facilitates housing counseling trainings nationwide and provides critical support and resources to housing counseling agencies throughout the Midwest as a HUD-Approved Housing Counseling Intermediary. Housing Counseling Corps leverages the expertise and resources of our Capacity Building team and our AmeriCorps Network to fortify the housing counseling workforce in Illinois and throughout the United States. Learn more about becoming a Housing Counselor and applying for the Housing Counseling Corps. 
Interested in hosting a Housing Counseling Corps member at your agency? Read more about hosting an AmeriCorps member and reach out to americorps@housingactionil.org.
Recent Accomplishments
When we started placing AmeriCorps members for the 2020-2021 year, we really didn't know what would be possible in the coming months. We're very proud that our network of 24 AmeriCorps VISTA members were able to achieve so much, even during pandemic. In just one year, our network collectively:
Raised $728,000 in grants, cash, and in-kind donations for their host sites
Connected 4,000 households with housing services
Helped develop, make available, or repair 1,000 housing units
Recruited or managed 500 volunteers
These numbers only tell part of the story—there are many other ways in which our AmeriCorps members build capacity for their host organizations. See below for spotlights on individual members.
"I had a few friends and acquaintances who served in AmeriCorps before and recommended the experience," explains Tara Joy when asked how she first became interested in a year of service. "I was also interested in learning more about working in affordable/fair housing,...