35 Years of Positive Change
Since 1986, Housing Action Illinois has been working to expand and protect affordable housing and end homelessness in Illinois.
We've brought people and organizations together, advocated for equitable laws and new resources, created better rules, overcame opposition, and created systemic change. Our work has led to tens of thousands of new homes being built, hundreds of thousands of people going from housing insecurity or homelessness to having stable homes, and millions of renters gaining better protections. Working with our members and allies, we've created access and housing opportunities in every community throughout Illinois.
And we're not finished. Every day, on our own and through coalition work with partners, we continue to help low- to moderate-income homeowners, renters, and people experiencing homelessness. Support our work to build a brighter future »
We believe that housing is a human right and understand expanding affordable housing as a matter of racial and economic justice. We want to see all communities thrive, and we will continue our work until we have created an Illinois where everyone has a good, stable place to call home.
Diane Nilan, Co-Chair of Housing Action Illinois (then known as Statewide Housing Action Coalition), introduces Governor Thompson at the signing ceremony for the Illinois Affordable Housing Trust Fund in 1990

In just the past few years, we've secured historic wins for housing policy in Springfield and Washington, D.C. and supported thousands of nonprofit housing professionals through trainings, peer-to-peer learning opportunities, and individual coaching. We now manage $1.3 million in HUD housing counseling funds for 33 affiliate agencies and manage an AmeriCorps VISTA Network of 25+ full-year AmeriCorps members and 30+ AmeriCorps Summer Associates.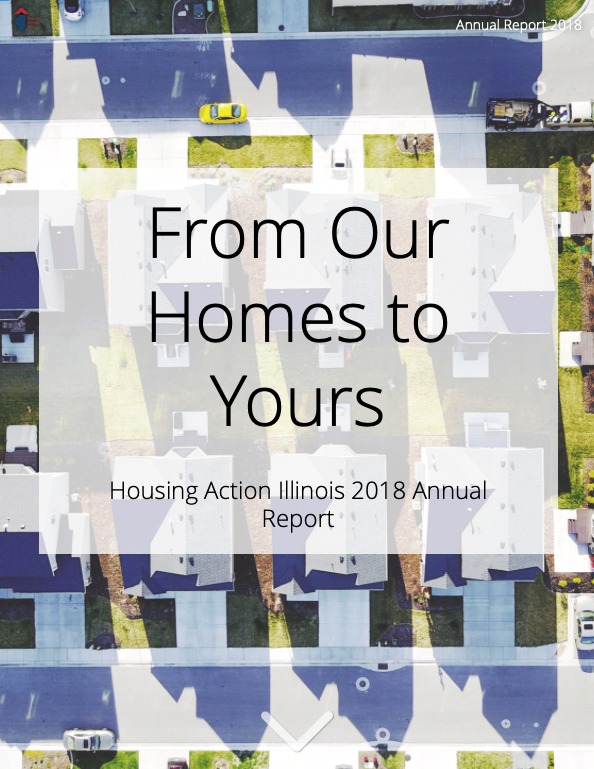 1986-1987 – Our Founding
Recognizing the need to tackle affordable housing at the state level in Illinois, 46 organizations joined together in 1986 and decide to campaign for a state housing trust fund. Our founders formally incorporated as the Statewide Housing Action Coalition (SHAC) in 1987.
1990 – Illinois Affordable Housing Trust Fund
Our first major win was the establishment of the Illinois Affordable Housing Trust Fund. It facilitates nearly all public, private, and nonprofit affordable housing activity in Illinois by providing grants and loans to home developers and rehabbers. As of 2022, the fund has distributed more than $939 million in funding, leading to the creation of 74,725 affordable housing units.
1990s – Training & Technical Assistance for Developers
In the early 1990s, seeing a need within the state, we expanded our services to include comprehensive training for developers and assisting organizations in securing Community Housing Development Organization (CHDO) status with HUD to access HOME funds for real estate development projects.
1993 – Federal Policy Advocacy
We started engaging in advocacy at the federal level by becoming a state partner of the National Low Income Housing Coalition (NLIHC), a relationship that endures through today. Together, we campaigned for tenant representation on Public Housing Authority Boards, property tax exemptions for affordable housing owned by nonprofits, and minimum standards for private housing.
1999 – Homeless Prevention Program
We co-led the It Takes a Home to Raise a Child campaign with the Chicago Coalition for the Homeless, successfully advocating to create the state Homeless Prevention Program. This fund provides rent and utility assistance to individuals and families at risk for homelessness and has prevented homelessness for more than 120,000 households.
1999 – TIF Reform
After a multi-year coalition campaign, we successfully saw Tax Increment Financing (TIF) reform legislation signed into law by Governor George Ryan to increase transparency, require impact studies, and mandate compensation for displaced households. We then began outreach to educate community members about how to make use of the new law's protections.
2000s – Illinois Assisted Housing Research Action Project (IHARP)
Seeing a need for data-driven state housing policy, we began partnering with UIC Voorhees Center and different peer organizations, including Latino Policy Forum and the Shriver Center, to research affordable housing issues affecting Illinois and publish our findings. IHARP also created the first comprehensive digital database of assisted housing units in Illinois.
2002 – Governor's Housing Task Force
We mobilized over 500 advocates to call for statewide hearings, which lead to the creation of the Governor's Housing Task Force, an annual state housing plan, and committees on housing in the state House and Senate. We also secured a $4 million increase in the Homeless Prevention Program budget.
2004 – Community Housing Developers Institute
We launched the Community Housing Developers Institute (CDHI), a workshop series that helped hundreds of housing developers throughout Illinois enhance their skills and knowledge.
2005 – Rental Housing Support Program
After a three-year campaign, we successfully advocated for the Rental Housing Support Program, which was established with a dedicated funding stream of $25 million in its first year. This rent subsidy program continues to assist 2,500 extremely low-income households afford their homes each year.
2006 – Becoming Housing Action Illinois & Expanding Support for Housing Counselors
2006 was a transformative year for us; we changed our name from Statewide Housing Action Coalition (SHAC) to Housing Action Illinois. This was also the year that we again expanded our Capacity Building services, this time to provide education to housing counselors.
2007 – Safe Homes Act
With allies, we secured $11 million in funding for the Homeless Prevention Program and campaigned with the Shriver Center to pass the Safe Homes Act, which protects the rights of renters experiencing domestic violence and sexual assault.
2008 – Addressing the Foreclosure Crisis
In response to the 2008 financial crisis, we increased our housing counselor trainings to ensure consumers facing mortgage delinquency and default could turn to trusted, knowledgeable sources of assistance. In the next few years, we expanded our support of housing counseling agencies as co-facilitator of the Home Ownership Counseling and Legal Aid Task Force of the the Regional Home Ownership Preservation Initiative, a Chicago Metro initiative to support homeowners and stabilize communities.
2009 – Affordable Housing as Infrastructure
We successfully advocated for a $130 million allocation to affordable housing in the state capital budget, the first time that affordable housing was included in an Illinois capital budget.
2010 – AmeriCorps VISTA Program Sponsor
Hearing a need from member organizations, we became an AmeriCorps VISTA Program Sponsor in 2010 to help our members build sustainable capacity with full-time, one-year VISTAs. Since this program's beginning, our VISTAs have raised more than $3.5 million in cash and in-kind donations, recruited and managed thousands of volunteers, and worked on all kinds of projects to fight poverty and help communities to expand and improve their supply of affordable housing.
2012 – Federal Funding Advocacy & Foreclosure Prevention
By advocating with allies after funding cuts, we secured $45 million in federal funding for HUD-certified housing counseling agencies and restored $4.7 million to the Emergency and Transitional Housing Program in Illinois' budget. We also began providing statewide training and programmatic assistance for foreclosure prevention efforts.
2013 – Foreclosure Protections for Tenants
In the wake of the foreclosure crisis, we helped pass legislation that protects tenants living in foreclosed properties from being forced out of their homes because their landlords have fallen into foreclosure.
2014 – HUD Housing Counseling Intermediary
To enhance our capacity building efforts and assist our housing counseling members, we became a HUD Housing Counseling Intermediary in 2014. We now secure and distribute pass-through funds from HUD to an affiliate network of HUD-approved housing counseling agencies, growing from an initial award of $307,000 for 26 agencies, to $1.3 million for 33 agencies located in Illinois, Indiana, Michigan and Missouri.
2015 – Protections Against Reverse Mortgage Scams
We helped to pass a state bill creating consumer protections for senior citizens considering reverse mortgages in response to scams targeting elderly African-American residents in Chicago.
2016 – State Budget Advocacy
We worked to pass the stopgap state budget, which rejected previously proposed cuts and included $77.4 million for programs to create affordable housing and end homelessness. We mobilized supporters to call for an end to Illinois' state budget impasse.
2016 – National Housing Trust Fund
We worked with partners for more than a decade to advocate for the National Housing Trust Fund, which created a dedicated funding stream for building, preserving, and maintaining affordable rental housing. Since 2016, Illinois has received significant allocations from the NHTF, including $33.7 million in FY22.
2016 – Reviewing Client Management Systems for Housing Counselors
To help housing counselors choose from among Client Management Systems (CMSs), which they rely to track outcomes with helping households make informed home purchases or rental decisions, repair credit, and budget for the future, we published the first-ever comprehensive review of HUD-approved CMSs.
2017 – Going Nationwide with Housing Counseling Trainings
Partnering with the Rural Community Assistance Corporation (RCAC), we expanded our housing counseling training nationwide and conducted the first series in Arizona.
2017 – AmeriCorps Summer Program Launches
We launched our Summer VISTA Associate program, which places nearly 30 VISTAs with host sites for 8 – 10 weeks to tackle capacity-building and direct service projects.
2017 – Protections for Rent-to-Own Homebuyers
We secured statewide legislation to protect homebuyers from predatory rent-to-own contracts. With this law, Illinois became a model for strong consumer protections against this often predatory practice that targeted low-income families and, in particular, Black households.
2018 – Protecting Children from Lead Poisoning & Researching Eviction
We led advocacy for a new law that updates Illinois' definition of elevated blood lead level for children, bringing it up to CDC standards, and co-authored a report with the Lawyers' Committee for Better Housing on how public eviction records in Cook County make it harder for renters to find housing in the future even if they were never actually evicted.
2019 – Going Nationwide with Housing Counselor Trainings
We were awarded a grant from HUD to provide national housing counseling trainings and began hosting workshops to help housing counselors better serve communities around the country.
2019 – Capital Budget Funding & Homeless Prevention Funding
We worked to build support for investment in affordable housing—and successfully secured $200 million in the first capital budget in a decade. We also secured a $4 million—more than 80%—increase in funding for the Homeless Prevention Program, resulting in a total of $9 million in available funding.
2019 – Protecting 1M+ People with Records from Housing Discrimination
We co-led the campaign to pass the Just Housing Amendment, a groundbreaking measure that will ensure housing providers in Cook County do not discriminate against applicants with records.
2020 – COVID-19 Response & Relief Funding
We helped address immediate shelter needs during the early pandemic days by subgranting $485,000 to 30 homeless service providers across IL. We also advocated for federal relief funding for HUD and successfully urged state lawmakers to dedicate funds to housing. IL committed more than $325M for emergency rent and mortgage assistance—the largest housing commitment by any state.
2020 – Making the 2020 Census Count
Because of its importance to Illinois communities, in 2020, we joined many partners in a once-every-decade initiative to ensure that all Illinois residents participated in the U.S. Census. Although the COVID-19 pandemic meant shifting outreach strategies, our collective efforts pushed Illinois' census participation above the national average.
2020 – Renter Protections in Cook County
As part of the steering committee for a strong coalition of allies, we successfully advocated for the Cook County Residential Tenant Landlord Ordinance, which extends basic renter protections to more than 245,000 suburban households.
2020 – Pivoting to Virtual Trainings
Housing Action's trainings, meetings, and annual conference changed significantly in 2020 as we went entirely virtual to comply with safety and public health guidelines during the COVID-19 pandemic. We brought 32 online trainings to 3,565 participants, helping them improve their skills and knowledge to better serve their communities. As we went virtual ourselves, we also supported
2021 – Illinois Community Reinvestment Act
Housing Action joined with Woodstock Institute and other allies to successfully advocate for the Illinois CRA, becoming only the second state with an oversight system to ensure that residents are equitably served by all three major segments of the mortgage lending market: banks, credit unions, and state-licenses mortgage companies. This is a historic victory for low-income and communities of color in Illinois.
2021 – Getting Housing Counselors Certified
We helped housing counselors and agencies meet new professional certification standards by an August 2021 deadline by providing online study groups and one-on-one support. Illinois consistently ranked in the top 5 states for HUD-certified housing counselors as the new standards rolled out.
2021 – Landmark State Housing Legislation
We successfully advocated for the landmark Affordable Housing Omnibus bill, which creates new resources for affordable rental housing and property tax policies to keep rents affordable, and for the COVID-19 Emergency Housing Act, which creates protections for Illinoisans struggling to pay rent or a mortgage and seals all eviction records from March