2020 has been a difficult year—marked by the COVID-19 public health crisis, related economic downturn, and widespread social unrest in response to systemic racism. A heartbreaking number of people are facing housing insecurity at a time when it is clearer than ever that housing is healthcare, and we are facing challenges both new and old as we head into the new year.
As we work to meet these challenges and build a better future for everyone, we are taking a moment to reflect and honor the resilience of individuals and communities throughout Illinois. We are inspired by the ways in which Illinoisans have come together to meet urgent needs, and we are grateful to our members and partners for your hard work in the midst of constant change and uncertainty.
We want to share the bright spots that have carried us through the past 12 months, and we invite you to join us in finding silver linings from 2020.
Homeless service providers throughout Illinois met critical needs with nearly half a million dollars in COVID-19 relief subgrants provided by Housing Action.
Housing Action subgranted $485,000 to 30 homeless service providers across Illinois, thanks to funding we received from the Illinois COVID-19 Response Fund and the National Low Income Housing Coalition.
Together, the subgrantees served 3,515 individuals—including more than 790 children, 830 individuals with healthcare needs, and 1,060 people experiencing wage loss—and provided a total of 78,000 nights of shelter, 130,000 meals, and 23,000 pieces of personal protective equipment. In addition, 300 households received short-term rent and mortgage assistance, and 160 received utility assistance.
Homeless service providers from across Illinois met the urgent needs of people facing housing instability during the pandemic.
We successfully advocated for significant federal COVID-19 housing-related relief—and for Illinois to prioritize this funding for people and communities disproportionately affected by COVID-19.
Federal Funding
We advocated alongside the National Low Income Housing Coalition for more than $12 billion in funding for HUD, which was included in the federal CARES Act passed by Congress in March. Illinois communities were allocated $332.6 million of the funding for three HUD programs:
$118.6 million through the Emergency Solutions Grant (ESG)
$212.1 million through the Community Development Block Grant (CDBG)
$1.8 million through Housing Opportunities for Persons with AIDS (HOPWA)
These funds are being used to serve the basic human needs of people experiencing homelessness, renters, homeowners, and others impacted by the pandemic.
State Funding
The final FY2021 Illinois state budget includes $310 million in COVID-19–related rent and mortgage assistance—the largest commitment of federal Coronavirus Relief Fund dollars from the CARES Act for housing assistance by any state, and a critical win for Housing Action and the state of Illinois. Of this, at least $100 million was designated to meet the needs of people in the areas most impacted by COVID-19, which are disproportionately communities of color. In total, by the end of 2020, these funds will assist 42,000 renter households in maintaining their homes through a commitment of $210 million in funding. In addition, thanks to $100 million in grant funding, 10,000 homeowners will avoid foreclosure.
New Homebuyer Assistance Programs
On December 1, our 2019 advocacy efforts continued to pay off with significant returns when Governor Pritzker and the Illinois Housing Development Authority (IHDA) announced the commitment of $60 million in state capital budget funds to create two new homebuyer assistance programs. These programs will help Illinoisans overcome barriers to homeownership, with a focus on serving disinvested communities and people of color.
Opening Doors, or Abriendo Puertas, is designed to provide a safe and affordable lending program that allows families across Illinois to achieve a path to homeownership and asset building. The SmartBuy program will increase home purchase accessibility for low- to moderate-income borrowers across Illinois affected by increasing student loan debt. Combined, the two programs will assist 6,500 to 7,000 households.
The committed funding is a portion of the $200 million in capital budget funding we and our partners successfully advocated for in 2019. The remainder of funding will be committed over the next few years, with an estimated equal split in funding to benefit both renters and homeowners.
in funding for the U.S. Department of Housing and Urban Development (HUD)
in funding allocated to Illinois for HUD programs
for COVID-19–related rent and mortgage assistance in the Illinois state budget
for two new homebuyer assistance programs in Illinois
We received $1.3 million in HUD funding to distribute to housing counseling agencies.
As a Housing Counseling Intermediary, Housing Action secures funding from HUD and passes it through to our affiliated housing counseling agencies that provide direct services to renters and homeowners in need. We also help our affiliates with administrative functions, and assist each agency to ensure it meets program standards and client needs.
This year, we were allocated $1.3 million in funding from HUD—the highest award we've received to date. With our support, our 32 affiliated housing counseling agencies are able to be more efficient, provide more comprehensive services, help more people, and create more change in their communities.
During FY20, our affiliates helped 10,074 households understand their housing options, 3,370 households improve their housing situation, 910 households purchase their first home, and 340 households avoid eviction.
We pivoted our trainings to focus on equipping housing counselors with the skills and knowledge needed to effectively serve clients while working remotely.
Our trainings, workshops, and webinars are designed to meet the unique needs of housing organizations and help housing counselors and other nonprofit housing professionals build their skills and knowledge.
When counselors began working from home during the pandemic, we offered A Primer on Virtual Housing Counseling. This overwhelmingly popular training reached its 150-person capacity within 90 minutes of registration opening, so we organized a second session to meet the demand. We also shifted our place-based Fundamentals of Rental Counseling training to a virtual format to help counselors respond to the large increase in renters seeking their services due the pandemic.
To help counselors keep up with continually changing rules and regulations regarding evictions and foreclosure as the COVID-19 pandemic developed—and to prepare counselors for evolving needs as the situation continues—we facilitated trainings with legal experts and veterans of the 2008 foreclosure crisis.
Meanwhile, our Online Study Group continues to help housing counselors prepare to pass the individual certification exam and become HUD certified. More than 1,000 counselors from across the nation have participated in the study group since its launch in 2018.
Housing Action Illinois' Bibian Cristino & Chicago Community Loan Fund's Taft West look at the Fundamentals of Rental Housing Counseling coursebook.
We helped community-based organizations build relationships with financial institutions to increase access to affordable housing.
Through the Community Revitalization Challenge, we help community-based organizations build capacity, working with them to develop robust proposals for projects that increase access to affordable housing for low- and moderate-income residents throughout Illinois.
We launched the second round of the Community Revitalization Challenge, CRC 2.0, in January. Fourteen organizations submitted project ideas, and eight were selected to develop their ideas into fully-fledged proposals.
In November, six organizations presented their proposals to seven financial institutions during our virtual CRC 2.0 Project Showcase.
Our AmeriCorps members continued to shine.
AmeriCorps VISTA is a national service program designed to fight poverty.
In 2020, 24 full-year AmeriCorps members and 21 Summer AmeriCorps members served at organizations across the state through Housing Action Illinois' national service program. While they all felt the impact of the COVID-19 pandemic on their terms of service—whether suddenly having to learn how to do a role remotely, pivoting work goals towards relief efforts, or getting to know their coworkers over Zoom—our AmeriCorps members rose to the occasion and made the most of it. They worked on projects ranging from creating virtual infrastructure for organizations to collecting data to illustrate statewide housing inaccessibility.
Altogether, our AmeriCorps Members helped bring in $507,000 in cash and in-kind donations and recruited or managed more than 2,100 volunteers.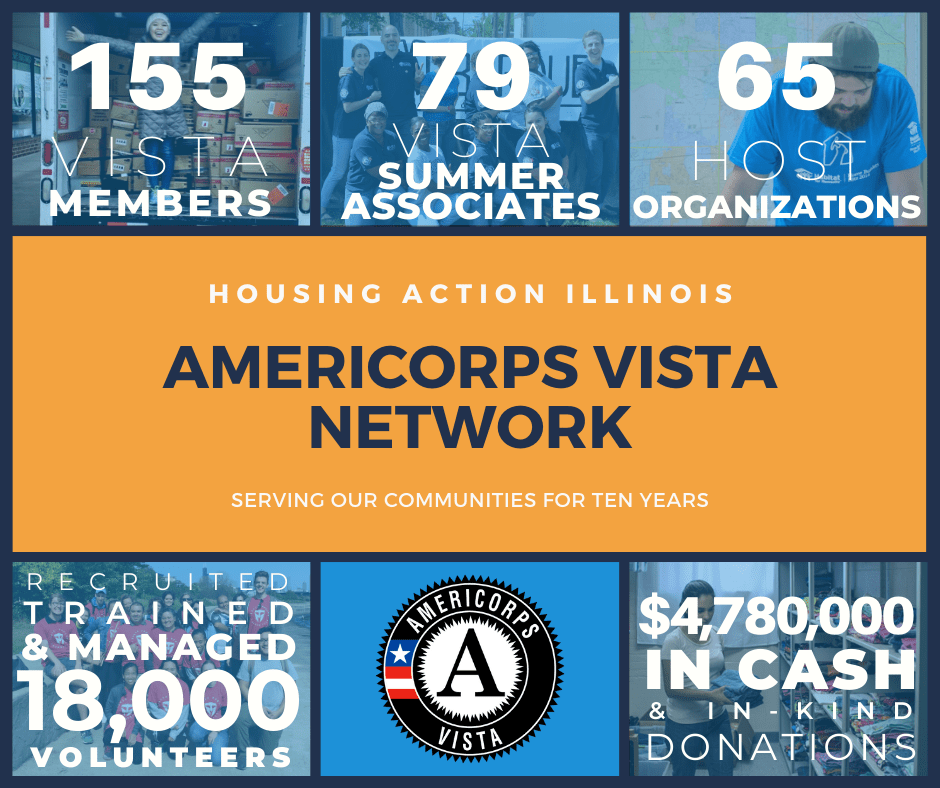 We took the Housing Matters! Conference virtual—and national.
Although we weren't able to come together in person for this year's conference, we found new ways to connect. We partnered with the National Alliance of Community Economic Development Associations to take the Housing Matters! conference virtual and national as part of the Strengthening Resilient Communities forum.
245 housing practitioners from 141 different organizations registered to attend Illinois sessions and national plenaries with powerful speakers, including author Ibram X. Kendi, architect Deanna Van Buren, U.S. Representatives Chuy Garcia and Robin Kelly, and State Representative Delia Ramirez.
A particular bright spot for Housing action was the chance to create and share a video featuring housing advocates from across the state speaking about what they are most proud of in their communities. We shared this during our Housing Matters! kick-off session.
We reached out to diverse communities to make sure all Illinoisans were counted in the 2020 Census.
As a part of the non-partisan Get Out the Count initiative, Housing Action worked to ensure that historically hard-to-count communities in Cook County were counted in the 2020 Census. Our outreach focused on racial and ethnic minority populations, renters, people experiencing homelessness, and low-income populations through a variety of means—ranging from Polish- and Spanish-language radio and newspaper ads, letters to the editor, and bus ads, to custom-printed Census masks and trail mix.
We partnered with the Chicago Neighborhood Family Portrait Project—an initiative started by photographer William Estrada to engage with and document people in their own communities, providing portraits to families who might not have them taken otherwise—at questionnaire assistance events in Cicero. These events provided a space for people to understand the 2020 Census and its importance for historically underrepresented communities, and to get a beautiful portrait taken. 
The Just Housing Initiative took effect, and we began working to help people understand their new rights.
In 2019, after a campaign co-led by Housing Action, the Just Housing Amendment passed, creating protections against housing discrimination for people with arrest and conviction records in Cook County. In 2020, with the amendment in effect—giving more than one million people a fair chance at finding housing—we began working to help applicants understand their rights and to inform landlords about the new protections.
Gianna Baker, Just Housing Initiative leader, at a press conference urging Cook County Commissioners to pass the measure.
Our members, donors, and funders joined us in working toward an Illinois where everyone has a good, affordable place to call home.
This year, we welcomed twenty-seven new member organizations, making our coalition of more than 135 organizations even stronger. And, thanks to the generosity of our donors, we raised a total of $6,993 in individual contributions at our first-ever online benefit—exceeding our $6,000 goal. 
We are always grateful for all of our supporters, both new and returning. Your support means a lot to us and strengthens our efforts to make sure everyone has a good, affordable place to call home.
We kept affordable housing in the headlines—and we shared data and stories to build momentum for change.
We want people to care about and understand affordable housing. This means changing the way we talk about it—and making sure people are talking about it. The more people pay attention to housing issues, the more they understand and the more momentum we build for meaningful change.
In 2020, we focused on shaping media narratives, especially in response to the pandemic. Between talking with reporters and writing our own articles, Housing Action ended up securing more than 50 media placements. We also created messaging guidance for our member organizations on talking about housing during the COVID-19 pandemic.
At the beginning of the year, we co-published A Place to Call Home, a collection of stories by people who have experienced homelessness that grew out of our 2019 Storytelling for Change workshop series with the Supportive Housing Providers Association. In the spring, we co-released the National Low Income Housing Coalition report Out of Reach 2020 in Illinois. The report finds that in order to afford the average modest apartment in Illinois, a worker must earn $21.30 per hour—more than twice our state minimum wage. The report highlights the barriers many families face in complying with stay-at-home orders and advisories while dealing with the financial impacts of COVID-19.
Throughout 2020, we have continued to spotlight the work of our member organizations, projects, housing counselors, AmeriCorps members, and staff on our Latest Updates page.
A Shift in Understanding
While COVID-19 has impacted every Illinoisan in a multitude of ways, not everyone has been affected equally. The pandemic has unmasked and exacerbated the deep disinvestment in communities of color and the ways in which historical injustices and residential segregation continue to affect our everyday lives. During the course of the year, public health experts have consistently urged us to stay home, but not everyone has a home—or has a safe, stable home.
Many Americans have a new, deeper understanding of just how important a stable home is to both individual and collective well-being. This provides an opportunity for housing and homeless advocates to solidify an understanding of housing as healthcare, forge new alliances, and take steps toward long-term solutions.
As we respond, recover, and rebuild after this public health crisis, we need to expand housing opportunities in a sustainable way, not just create band-aid fixes. This is both necessary and within our reach; we can create new standards and develop better systems to ensure that everyone has a place to call home.
Help us build that brighter future.
Contribute to our mission to create an Illinois where everyone has a good, affordable place to call home.