With a degree in theater from the University of Chicago and a love of technology, Fundraising VISTA Summer Associate Elisabeth Del Toro has helped to turn Centro Romero's upcoming
annual gala
into a video extravaganza. Feeling inspired by what other actors are doing online, Elisabeth organized pre-recorded bits, performances, speakers, and virtual networking opportunities. The theme, Purple Chandelier, represents domestic violence survivors. The funds will help provide services through Centro Romero's
Domestic Violence Prevention Project
.
Elisabeth also hatched the idea of a weekly virtual bingo night as a way to keep Centro Romero's donor base engaged from home. She coded an easy-to-navigate online platform that costs a minimum of $15 to play and has the option to enter a 50/50 raffle.
Elisabeth loves the logistical aspects of her service and is proud to use her skills to help an isolated community during a difficult time. The work she is doing will help fund the services that Centro Romero offers to immigrant communities—namely the Latin American immigrant community—including legal, public benefits, adult education, domestic violence, and youth programs.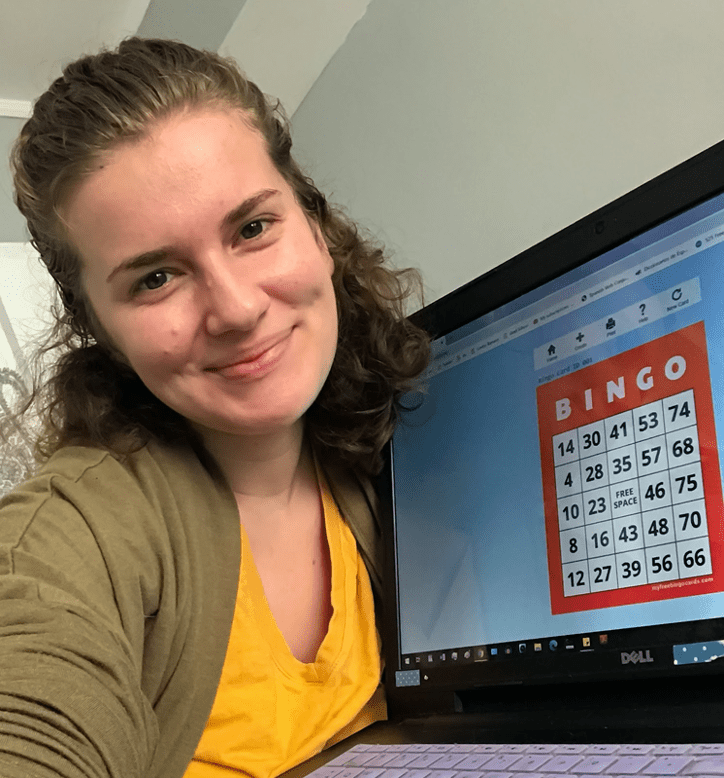 Elisabeth Del Toro poses next to the webpage that she built for Centro Romero's weekly bingo night.
Elisabeth has also been tasked with soliciting item donations for the gala's silent auction. Although some previous contributors are not in a place to do so this year, she was up to the challenge. Centro Romero's Creative Director, Griffin Baron, is thankful for Elisabeth's expertise: "Doing everything from helping to supply us with items for our silent auction to getting into the nitty gritty of coding our website to deal with the event—Elisabeth has been fantastic."
Jackie Seward (left) and Bella Lee (right) right after playing with paint during a trip to the park.
Under Centro Romero's Youth Program, Loyola University graduate Jackie Seward and fellow VISTA Bella Lee serve as Youth Program VISTA Summer Associates. The job is more than planning art projects and hanging out with the kids—the VISTAs are helping create and preserve a safe space for young people. "Generations of youth, whether it's during the school year or summer or in the midst of a pandemic, have found Centro as an outlet and that has made an impact on them, their families, and the community as a whole," Jackie said. "So my ability to support that mechanism by means of the Summer VISTA program is something that I feel is bigger than me and I feel very positive about."
Jackie became involved with Centro Romero during her time at Loyola. The VISTA program was a great opportunity to continue that work amid pandemic-related funding cuts and other limitations, including a decrease in volunteers and a cap on the number of children allowed to participate. However, Jackie and Bella rose to meet the challenges. They have tried to make this summer as normal as possible by replacing beach days with picnics at the lakefront and allowing the children to let loose with water balloons after a Carne Asada cookout. "I have found it really rewarding to be able to be part of creating a safe space for these kids as they come out of months of quarantining and need a chance to unwind and socialize safely," Jackie said.
Jackie's VISTA term will end this fall, but she plans to stay on board at Centro Romero—the organization has offered to keep her on as an employee. She will continue working for the youth program while she attends DePaul University to earn her Masters Degree in Nonprofit Management.